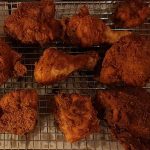 Fried Chicken
Total Time
3
hours
30
minutes
Ingredients
800

g

Chicken (Fillet, drumsticks, etc)

22

g

Cornstarch

(to make cake Flour)

340

g

all purpose

(200g flour, 160g Cake flour)

32

g

Whole wheat flour

10

g

black pepper corns

8

g

white pepper corns

4.5

g

paprika

4

g

Onion Powder

2.5

g

Caraway seeds

1.5

g

nutmeg

0.7

g

sage

0.5

g

allspice

ground

0.5

g

Thyme

0.3

g

cayene

0.1

g

Bay leaf

24

g

Salt

14

g

monosodium glutamate

120

g

Whole milk

60

g

Eggs
Instructions
Chicken
Split chicken in to respective bits, and place in sous vide bags with salt.

Cook dark meats for 2 hours at 68C and then add white meats for an additional hour.
Flour mixture
Instead of cake flour, use 175g all purpose flour and 24g cornstarch

Ground spices and herbs finely add to flour, add salt and mono sodium glutatmate, and mix thoroughly
Batter
Mix egg and milk, blend until smooth.
Fried chicken
Dip chicken in egg mixture, and dregde through lour mixture.
Sources : Chefsteps, Modernist Cuisine