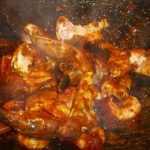 Chilie crab
Ingredients
450.0

g

Lobster or crab

6.0

Fresh red chillies

5.0

cloves

garlic

2.0

stalks spring onions

Coriander plat

3.0

tbs

vegtable oil

3.0

tbs

tomato ketchup

1.5

tbs

sugar

0.25

ts

salt

1.0

ts

soya bean paste

pounded salted

250.0

ml

water

1.5

ts

cornflour

0.5

ts

rice or malt viniger or freshly squeezed lime juice

0.25

ts

dark soya sauce
Instructions
This is a popular dish amongst Singaporeans. It is also a common feature in the menus of famous seafood restaurants (along East Coast and Punggol).

The abundance of fresh chillies and garlic makes this a very spicy and full-bodied dish. Chilli crabs/lobster bears testimony to the great love Chinese have for spicy Malay food.

The real way to eat this dish is with a serving of large square chuncks of bread to dip into the delicious sauce

Wash uncooked shellfish well, break off the claws and crack the shell by gently hitting it with a pestle. When preparing crabs, chop the bodies in half and then each half into 3 pieces. Wash and retain the shells. When using lobsters, chop off the tail and head, and chop the body, with shell still on, into thumb length pieces.

Plunge head and tail of lobster into boiling water and cook till the shell turns red. Remove from water and set aside for decoration.

Peel garlic and pound coarsely. Pound chillies coarsely too. Or grind in a food processor.

Wash spring onions, discard roots, cut into finger lengths. Cut coriander into one-inch lengths.

Mix sauce ingredients except for the vinegar or lime juice.

Heat wok, add oil and when hot, add the garlic, stir fry for one minute, add chillies, stir fry for another minute and add crab or lobster pieces.

Stir fry for 2 to 3 minutes till shells turn slightly red. Stir sauce, add to the crabs or lobster and stir well for 2 minutes. Cover with a lid and simmer over high heat for 5 to 7 minutes till shells turn a bright red.

Remove cover, squeeze the lime juice over or add the vinegar, stir well and add spring onions. Turn heat off, stir well and serve, garnish with coriander leaves.

The above menu is served with freshly baked bread pieces.